When you're dealing with a relatively small space, it's important to declutter your home and get rid of objects that take up too much space. Whether you decide to storage, donate, or toss items that are in the way, simply clearing out unnecessary decor and furnishings can make a big difference when it comes to hosting guests! You might not have room for the seven-foot tree of your dreams when you're celebrating Christmas in a tiny place, but that doesn't mean you can't display your favorite pieces.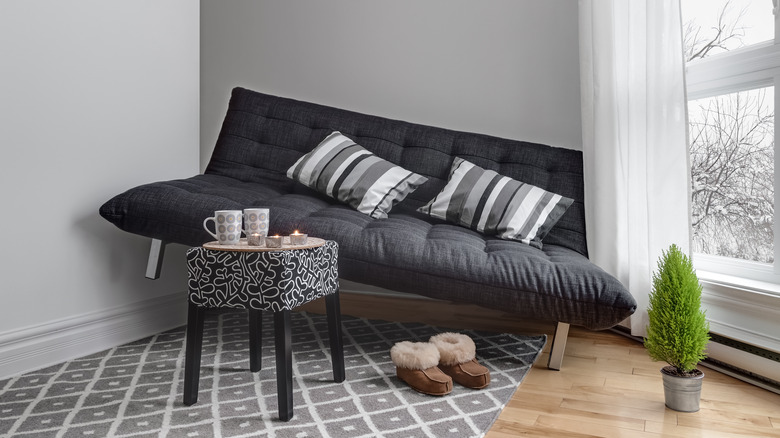 Shrink your Christmas Tree
There are a plethora of clever holiday decorating ideas that can help you save space while still preparing for Christmas. A good Christmas tree does not have to be 9 feet tall. It can be one branch or ten branches, real or fake, or fresh cuttings of greenery picked from the yard and placed in a vase. You can make a non-traditional Christmas tree that you can attach to a wall or even a door, or you can just put some branches in a vase and adorn them with decorations. Hang string lights from the ceiling, or use them to frame a mirror, mantel, or doorway. Ornaments could be dangling from the ceiling, from real or fake plants or trees, or placed on the mantel.
Gather Them All In One Spot
One of the best holiday home organization ideas is to set up a station where guests can create or get refreshments. If you've been thinking about getting a bar cart but haven't gotten around to it yet, the Christmas season is the perfect time to do it. Set up a fully stocked bar cart in your entryway to keep your cocktail party ready throughout the year. This motivates guests to help themselves. This ensures that no one is blocking the kitchen's entrances while trying to get a drink. Arrange beautiful glasses, different mixers, an ice bucket, and colorful toppings on a bar cart or buffet table. You may also fill a cooler with nearby water and sodas.
 Make your home smell like Christmas
The scents of cinnamon, pine, and peppermint are a sure sign that the christmas season is approaching. When your nose is teased by the scents of gingerbread and Christmas trees, you can't help but feel festive. Use fresh foliage in wreaths, garlands, sprays, and arrangements wherever possible. The scent will fill the room and put you in a festive mood right away. With a mason jar, lantern wick, and any oil that burns—even the olive oil in your kitchen cabinet—make your own scented candle. Aromatic ingredients such as vanilla bean, cinnamon, clove, pinecones, or oranges can be added. It will look attractive and smell delicious, plus it will be less expensive than a wax candle. The day before guests arrive, prepare appetizer platters, set drinks in coolers, season the turkey, and bake cookies in tins. You can simply set out or reheat any cuisine without having to deal with dishes or other food prep items taking up counter space.