Saturn Lamp
Regular price
€42.10 EUR
Sale price
€44.00 EUR
Unit price
per
Sale
Sold out
Saturn is the sixth planet from the Sun and after Jupiter it is the second-largest planet in the Solar System. It is a giant planet, consisting of gas with a radius about 9 times the radius of Earth.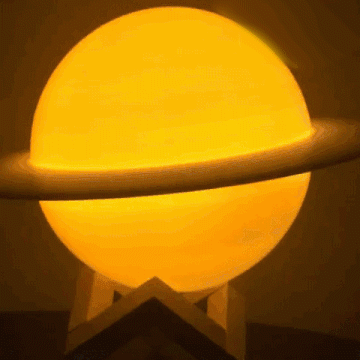 Because Saturn consists only of gas, it only has an everage density that is 8 times smaller than that of Earth, but due to its much larger volume, Saturn is over 95 times more massive! We hope to have captured a little bit of the awesomeness of Saturn into our Saturn lamp.
3 or 16 COLOR TONES IN ONE LAMP!
Each Saturn lamp can be adjusted to almost any color of your choosing, including a slow, soothing fade from color to color! You can use the remote to adjust brightness & toggle easily through all 16 colours!